A Choreographer's Tale (Part 4)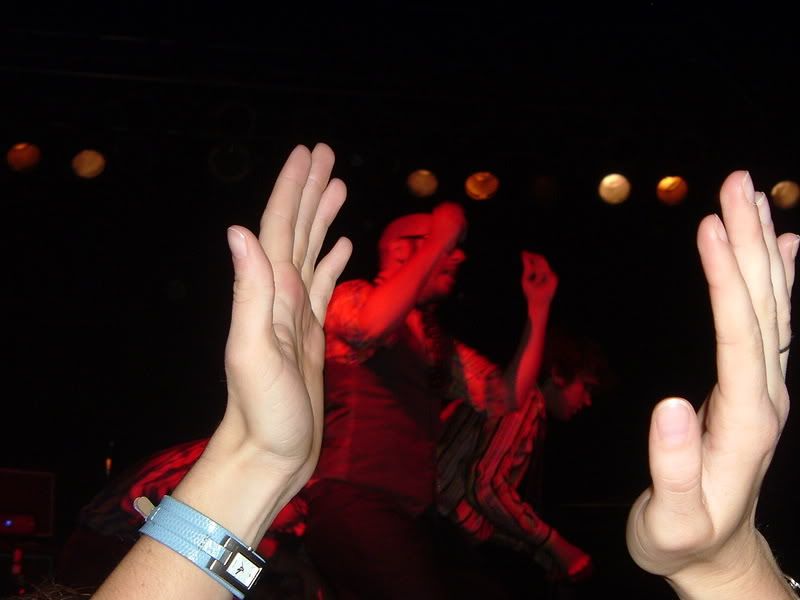 Photo borrowed from Michele
OK Go has spent the last few weeks creating and perfecting a new end-of-set dance, which they created with the help of an internationally known choreographer. We've asked her to share her experiences with you...
Wednesday.
I woke with the dawn and joined my Timberwolf Spirit Guide in baying to the morning sun. I was rewarded with a moment of clarity and beauty... I knew then and there that the toxic venom of the Toss-the-Tim section of the dance was destined to dissolve into a moment of triumph and victory over betrayal and brutishness. It would come in the form of a patented move I call "ManFaith Triumvirate (Proud Mountain In Back)."
From here, the intricate and fragile latticework of a delicate story long in the making would be unveiled, layer by layer. Damian and Andy lay down their sharp-edged spite at the altar of peace, each taking the other gently in a healing embrace and together they trace the ephemeral outlines of a world without pain. Eventually, though, Damian and Andy are wrenched apart from within, casting about for their own distant stars, leaving a dark void from which erupts none other than he they call TIM THE TIGER.
At this moment, I collapsed under the weight of my visions and the force of my insights. "Thank you, Timberwolf," I whispered before my spirit left my body.
--Trish